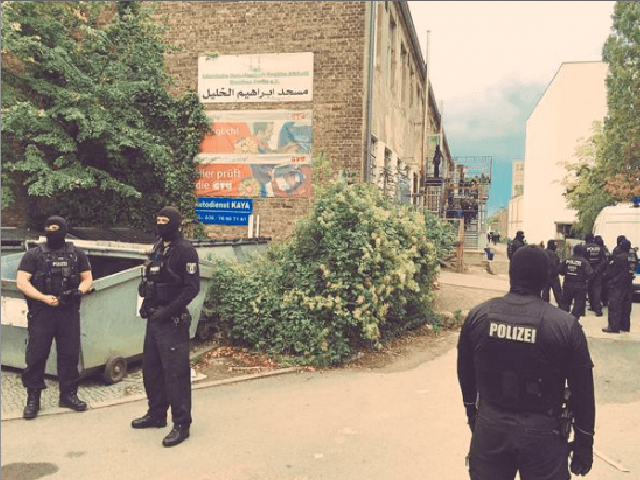 www.weaselzippers.us
by Liam Deacon
German police have confirmed they conducted eight raids in Berlin last night – including at least one on a mosque – targeting individuals suspected of recruiting for the Islamic State (IS) terror group. Outside the city, in Brandenburg, police continue to hunt for an "asylum seeker" who boasted on camera of being an IS killer. Berlin Police said in
statement
: "Among other things, a mosque association was searched in [the district of] Tempelhof-Schöneberg."
The statement continues: "The investigations relate to a 51-year-old Moroccan who is suspected to have instigated others to participate in Syria on the part of militant jihadist groups."
"…Furthermore, the investigation also runs against a 19-year-old Macedonian, who is suspected to be present to participate in the armed struggle in Syria with militant jihadist groups.
"There is currently no evidence that the accused have planned attacks in Germany."
The news emerged as a search for a Syrian "refugee" in the Brandenburg region, just outside Berlin, continues from yesterday. The man was recorded by a fellow migrant on his phone, boasting in a refugee hostel of killing for the IS terror group.
Over 600 German nationals are known to have travelled to Iraq and Syria to join IS, and the country is expected to absorb over a million migrants this year alone, many from countries where IS and other militant Islamist groups are active.
However, German authorities have built a database of IS affiliated fighters, and are claiming that there are no signs of "systematic infiltration of the refugees" by the IS members,
The Times
reports
.
Just three days ago, German police
shot dead
a knife-wielding terrorist on the streets of Berlin after he stabbed a female police officer in the neck. The Iraqi citizen was a convicted terrorist and an asylum seeker who Germany had been powerless to deport because of his "human rights."
breitbart