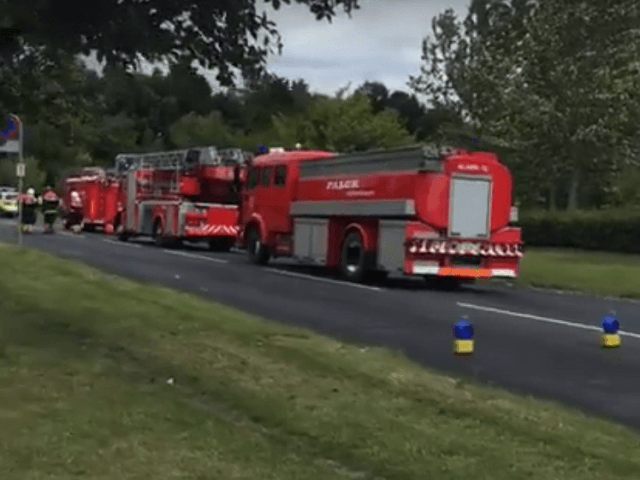 Facebook.com / Thomas Overgaard
An Iranian migrant was arrested in Nyborg, Denmark today after climbing to the roof of an asylum centre and threatening to blow himself up. Police were called to the Nyborg migrant center at 11:16 Central European Time,
reports
Esktra Bladet
after the 22-year-old Iranian made the threats. The 500-capacity center was evacuated due to his threats. It is not presently clear whether he had a credible device, but footage captured by eye-witnesses at the scene shows a large presence of ambulances and fire appliances in addition to police.
Police negotiators managed to talk the man down by 13:44 today. Reports claim the arrest of the would-be bomber "took place without incident".
The Iranian national is reported to be a resident of a migrant camp in Faaborg, Denmark, an hour drive away. A police spokesman did not mention a potential terror motive for the threatened attack, but said the Iranian migrant's motives were purely romantic. He said: "It was reportedly heartache that made the mean threaten to blow [himself up]".
Danish broadsheet Berlingske Tidende reports the remarks of one bystander who said: "We have been told it was… a man sitting on the roof with a bomb around his waist. The only thing I can see are a lot of fire trucks, police cars, two [police dogs] and a commander, and the other emergency services".
More...