by Soeren Kern
Children and women are being raped by human traffickers inside the Camp de la Linière, a migrant camp in the northern French city of Dunkirk; they are forced to have sex in return for blankets, food or the offer of passage to Britain. A volunteer worker referred to the children as being like "little steaks" because they were considered so appetizing and vulnerable to traffickers.

The breakdown in law and order in Muslim neighborhoods in Paris is being fueled by impunity for criminals and a lenient judicial system, according to Hugues Moutouh, a former advisor to the Interior Ministry.

"You can pass on my respects to the Grand Mufti, but I will not cover myself up." — French presidential candidate Marine Le Pen, cancelling a meeting with the Grand Mufti of Lebanon.

The report implies that deradicalization, either in specialized centers or in prisons, does not work because most Islamic radicals do not want to be deradicalized.
"I think that trying to blend into the crowd in order not to attract attention is a good way of catching traffickers. What's more, the police are not really respected on the council estates, which have become no-go areas. Even the police are scared to go there, which isn't right. So it's hardly surprising that when they come they have to disguise themselves — although I can understand why lots of people are criticizing them for it."
"In 2015, 7.3 million people born in France had at least one immigrant parent (11% of the population). Of these 7.3 million people, 45% are of European origin, most of whom are children of immigrants who arrived in France from Spain (8%) or Italy (12%) as early as the 1930s, or from Portugal in the 1970s onwards. One can assume, although it is not written in the study, that these people are of Christian origin.
"Another group is composed of Africans. 42% of the 7.3 million children born in France to an immigrant parent are of African background, mainly North Africa. They came from Algeria (15%), Morocco (11%), Tunisia (5%) and sub-Saharan Africa (11%). Although it is also not specified in the study, it would seem that the great majority are Muslim.
"Another group, children from Turkish migrant families, represent 4% of the 7.3 million. These people are classified as Asian; they are not included in the African and Muslim group. Most of these Turks are also presumably Muslim.
"A conclusion therefore would assume that 46% of the descendants of immigrants are Muslim and 45% are Christian. The remaining 9% are from East Asia or the Americas."
A volunteer coordinator, testifying on the condition of anonymity, said:
"Sexual assault, violence and rape are all far too common. Minors are assaulted and women are raped and forced to pay for smuggling with their bodies.
"Although the showers are meant to be locked at night, particularly dangerous individuals in the camp have keys and are able to take the women to the showers in the night to force themselves on them. This has happened to women I know very well."
She said that one of the most in-demand products distributed to women in the Dunkirk Camp are adult diapers: "Women are too scared to go to the toilets in the night," she said. "None of the locks in the women's toilets in the camp work."
The volunteer also recounted several incidents where minors had been attacked:
"A 12-year-old girl was groomed in the camp by a man well over twice her age. When she no longer wanted to speak with him because his behavior towards her had become so obscene, he threatened her. A 13-year-old boy ended up returning to his home country having been raped in the camp."
Another statement provided by an ex-NGO worker, who spent more than three years volunteering at Dunkirk, said men targeted women and children because they were so vulnerable. "You see women in a male environment with men that are disconnected from reality, so there are serious incidents such as rape. Women, children, young teens, male and female." The worker referred to the children as being like "little steaks" because they were considered so appetizing and vulnerable to traffickers, of whom dozens reside on site.
One woman travelling by herself said that unaccompanied individuals were viewed as prey: "All men see that I'm alone, and it's the same for the children. Men see me and they want to rape me."
"Another night of riots in the Paris suburbs. Again and again the same scenes of urban violence, the same images of cars burned, attacks of police stations, Molotov cocktails launched on the forces of law and order....
"A part of the French political class, on the left, is even an accomplice to these abuses by justifying the revolt of those whom it still persists in calling 'young people'...
"The suburbs of our big cities are being gangrened by gangs of traffickers.... They no longer fear the police and increasingly do not hesitate to attack them violently. Public utilities, schools and police stations are routinely ransacked. Our forces of order are exhausted and disgusted... Politicians, by their attitudes, may also give the impression of endorsing or even encouraging public disorder."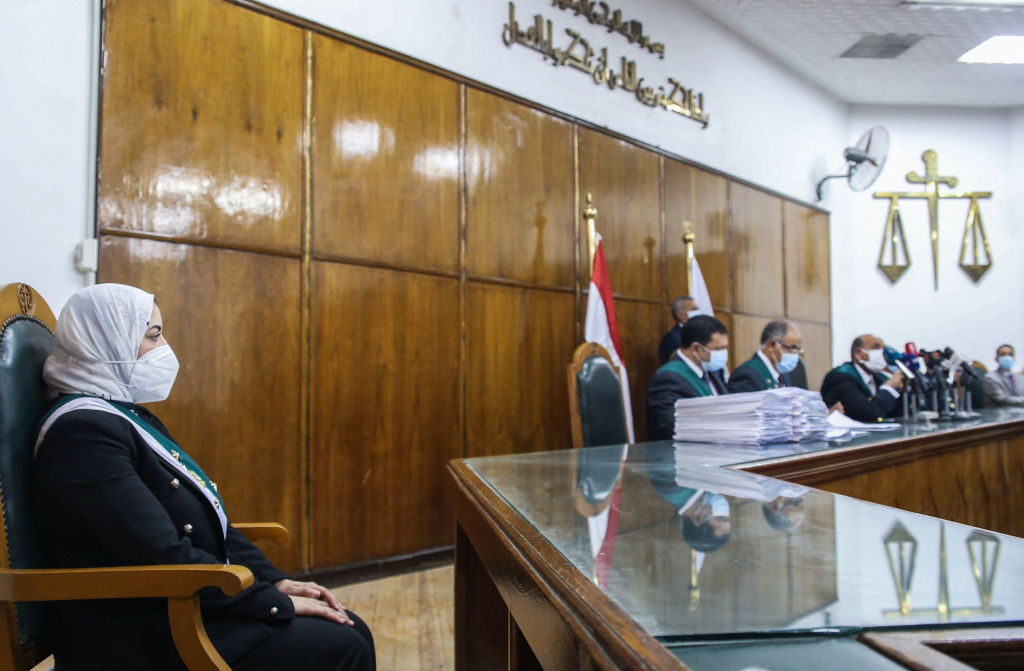 On Feb. 21, French presidential candidate Marine Le Pen cancelled a meeting with Lebanon's Grand Mufti after he insisted that she wear a headscarf. "You can pass on my respects to the Grand Mufti, but I will not cover myself up," she stated. (Image source: France24 video screenshot)
https://www.gatestoneinstitute.org/10062/france-islam-multiculturalism-february