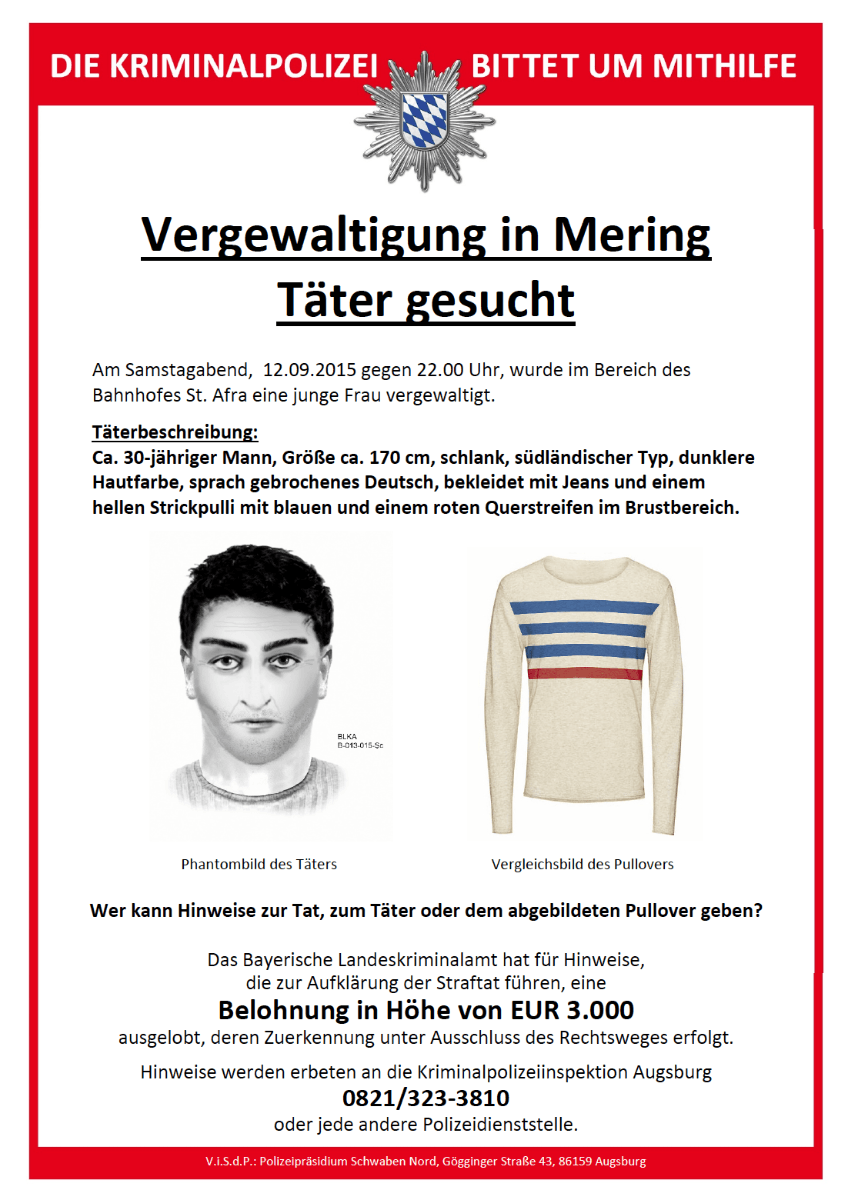 A 26-year-old asylum seeker will have to appear in a German court next Monday for the brutal rape of a teenage girl in the municipality of Mering, in the south of Germany. The suspect, who probably holds the Tunisian nationality, is also
being tried
in connexion with two attempted rapes.
On 12 September 2015, the refugee attacked the 16-year-old girl from behind in a parking lot near a railway station. The terrified victim was dragged to the shrubbery where the man then abused and raped her. His violent acts had created
"an atmosphere of fear in Mering",
the mayor had previously stated.
In May 2016, the asylum seeker assaulted a 17-year-old girl on a bike path in Forchheim, a town in Upper Franconia. He dragged the victim to the ground and tried raping her, but she resisted. When the teenager attempted to run away, the émigré grabbed and choked her. The screams of the girl alerted a passer-by who then came to the rescue. Soon after, the rapist was caught by police.
Victim's violent resistance prevents rape
Police subsequently found DNA matches connecting him to yet another sexual assault case. According to the investigators, the migrant had tried raping a 20-year-old woman in the Middle Franconia region, just one day before the rape in Mering took place.
This time, the victim, who had been travelling on foot near the town of Schwabach, was also attacked from behind by the Northern African. He then dragged her to the side of the road where he tried to abuse her. His rape attempt failed
"due to the victim's violent resistance,"
Augsburger Allgemeine reports.
Even though the German authorities had given the migrant a place to live, he was rarely at home and usually just travelling through southern Germany, police findings proved.
After the detectives, in July, managed to connect the refugee via a DNA test with the rape in Mering, Augsburger Allgemeine
earlier reported
,
"the entire town was breathing a sigh of relief."
If the Tunisian is sentenced to jail time, it is possible he'll get off lightly and may be deported, says Simone Losinger who heads the local migration agency. Losinger explains:
"Of course, a convict must serve time in prison, but there exists the possibility of exchanging part of the detention period in favour of deportation. If, however, the perpetrator ever were to return to Germany, he'll have to serve the remaining detention period."
The trial will take 6 days of court hearings, where eight experts will shed light on the expatriate and more than 20 witnesses will be heard.
https://gatestone.eu/rape-trial-tunis/