French centre-left presidential candidate Emmanuel Macron has been actively pursuing French voters living overseas to sway upcoming elections, according to internal campaign documents obtained by Breitbart London.
The document entitled "How To Win the French Foreign Constituency in 2017" was written by Thomas Rossignol and lays out a strategy for how Macron and his movement En Marche can win over the sizeable number of expat voters in the U.S., Canada, and the UK.
The strategy may have a significant impact after a new report
claimed
that some half a million expat voters received duplicate ballots, giving them the potential to vote more than once.
According to his LinkedIn
page
, Mr. Rossignol is a current diplomatic adviser to the United Nations for the French government in New York City and volunteered for En Marche in June 2016. In the paper, Rossignol writes, "participation will be the major issue of this election" and argues it would be easier for En Marche to attract
undecided
expat voters abroad than voters from the Republicans or the Socialists.
To achieve expat support, he outlined three core strategies which included understanding local issues, a large social media and ground campaign, and a "renewal" of the French political class.
Due to the size of North America, Rossignol says that a social media campaign is more appropriate to reach as many voters as possible. In the UK, the opposite was true and explained the
visit
of Macron to the UK in February of this year in which he met with Prime Minister Theresa May.
Whilst Rossignol advocated for a strong social media campaign, En Marche has struggled with social media according to another internal document. The social media report, which is dated from earlier this year, shows Macron far behind candidates like anti-mass migration Front National leader Marine Le Pen and far left candidate Jean-Luc Mélenchon.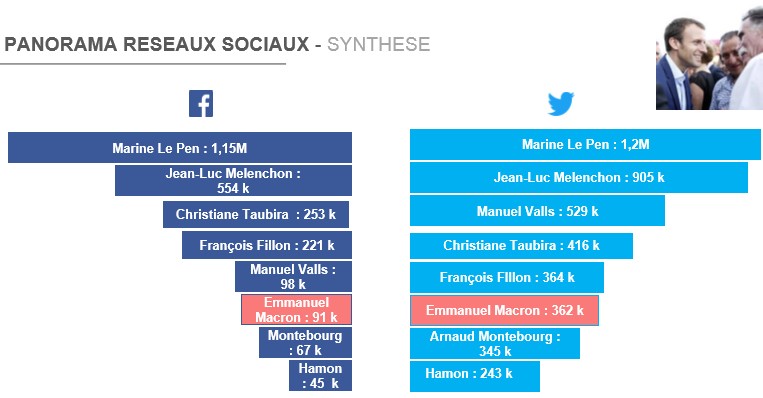 The figures show Macron to be well below the social media reach of Le Pen who has more than a million followers on Facebook and Twitter.
According to polls, Macron is still the favourite to win the first round of the election, though is only beating Le Pen by a percentage point. Both François Fillon and Jean-Luc Mélenchon have started to
narrow the gap
between themselves and the frontrunners.
Despite the close numbers, many believe that support for Le Pen may be underestimated. U.S. broadcaster CNN claimed many polls were
wrong
because many of Le Pen's supporters do not participate in polling. The Front National leader has also received broad support from
working class
French men and women and has even courted
LGBT voters
with her policies that are tough on radical Islam.
Breitbart London reached out to En Marche for comment on the leaked documents but received no reply.
http://www.breitbart.com/london/2017/04/21/internal-documents-show-macron-campaign-targeting-french-expat-vote/