by Soeren Kern
Initial reaction to Macron's speech was one of nearly unanimous disappointment over a missed opportunity. "We were expecting concrete policies," said the mayor of Aulnay-sous-Bois, Bruno Beschizza. "For now, there is nothing practical. I came out empty-handed."

An estimated six million people — around one-tenth of France's population — live in 1,500 neighborhoods classified by the government as Sensitive Urban Zones (zones urbaines sensibles, ZUS), priority targets for urban renewal.

Back in Paris, Macron admitted that France has "lost the battle over drug trafficking in many cities." He promised to announce a new plan to combat drug trafficking "by July."
"I will not announce a city plan or a suburban plan because this strategy is as old as me. The first plan was presented by [former French prime minister] Raymond Barre about the time I was born... we are at the end of what this method is able to produce."
"I want the face of our neighborhoods changed by the end of my five-year term, not because we have invested a certain amount of money, but because we will have changed our methods," Macron said. "It makes no sense that two white males who do not live in these districts exchanged one report. That no longer works."
"We expected strong acts and commitments and we were only treated to words. Cold shower for those who worked on #RapportBorloo and who want to rebalance the territories and the return of Republican equality."
"Barely a word on immigration, barely a word on Islamic fundamentalism. We know perfectly well that these problems are partly the source of the difficulties in the suburbs. Refusing to see the reality is to condemn oneself to failure."
The report, commissioned by the influential French think tank, L'Institut Montaigne, was directed by Gilles Kepel, a respected political scientist and specialist in Islam, together with five other French researchers.
The authors of the report showed that France — which now has 6.5 million Muslims (the largest Muslim population in European Union) — is on the brink of a major social explosion because of the failure of Muslims to integrate into French society.
The report also showed how the problem is being exacerbated by radical Muslim preachers, who are promoting the social marginalization of Muslim immigrants in order to create a parallel Muslim society in France that is ruled by Sharia law.
The research was primarily carried out in the Seine-Saint-Denis townships of Clichy-sous-Bois and Montfermeil, two suburbs that were ground zero for Muslim riots in the fall of 2005, when Muslim mobs torched more than 9,000 cars.
The report described Seine-Saint-Denis as a "wasteland of de-industrialization" and said that in some areas, "a third of the population of the town does not hold French nationality, and many residents are drawn to an Islamic identity."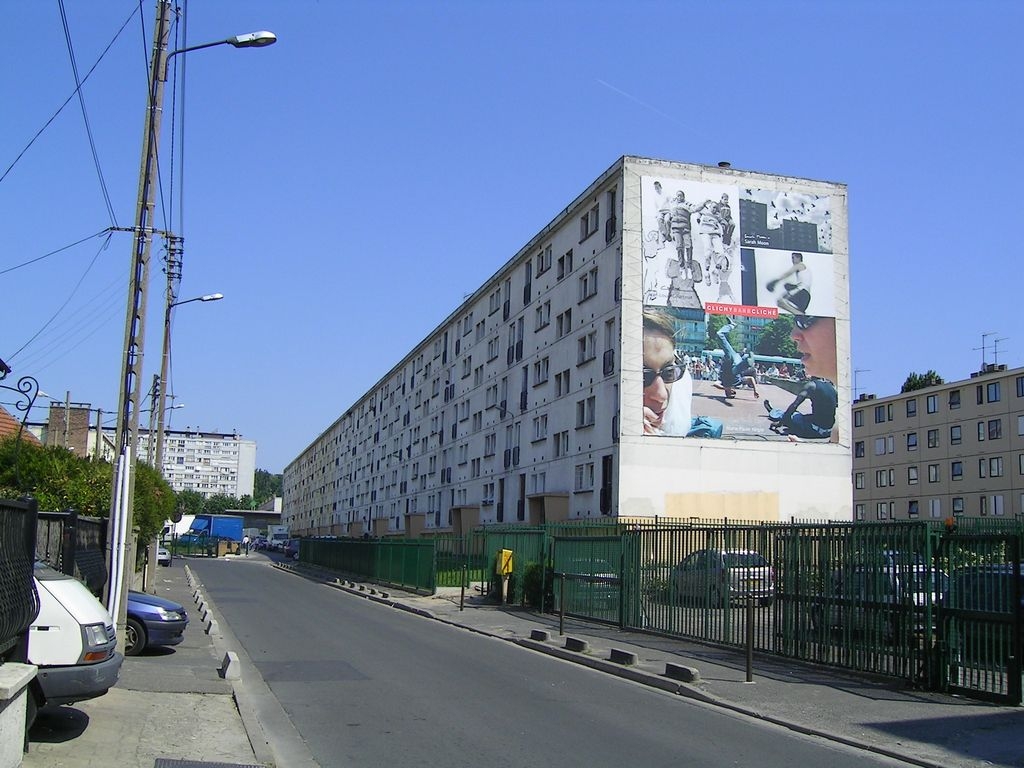 Pictured: A residential street in the French township of Clichy-sous-Bois, part of the Paris suburb of Seine-Saint-Denis, which was described in a recent report as a "wasteland of de-industrialization" where "a third of the population of the town does not hold French nationality, and many residents are drawn to an Islamic identity." (Image source: Marianna/Wikimedia Commons)
Another township of Seine-Saint-Denis is Aubervilliers. Sometimes referred to as one of the "lost territories of the French Republic," it's population is more than 70% Muslim. Three quarters of young people under 18 in the township are foreign or French of foreign origin, mainly from the Maghreb or sub-Saharan Africa. French police are said to rarely venture into some of the most dangerous parts of the township.
https://www.gatestoneinstitute.org/12362/france-macron-no-go-zones