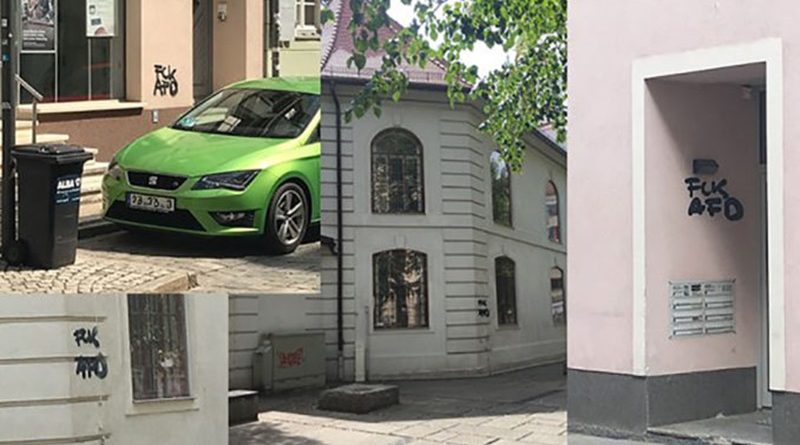 At the beginning of the week graffiti gangs were under cover of the night around the citizen's office of the party "Alternative für Deutschland" (AfD) in Cottbus. With their usual "originality" they sprayed "FCK AFD" onto several house walls. But also on the walls of the Jewish synagogue in Cottbus. What does that tell us about the perpetrators? Maybe the state police will find out. However, the reaction of the Brandenburg press is remarkable. No newspaper in the federal state of
Brandenburg has printed it. No report to the state broadcaster rbb. Imagine what would have happened if it hadn't been some presumed leftist who would have defaced the synagogue: front page? Special? Information stand " tolerant Brandenburg" ? Spontaneous demonstration of "civil society"? Mayor outraged? Spontaneous visit of the Federal President? We don't know that either...
Birgit Bessin, member of the Brandenburg state parliament of the AfD, comments on the incidents as follows: "That the obviously same perpetrators not only attack the AfD within one night, but also make a Jewish synagogue the target of their attacks really frightens me. Is it the fact that the AfD in particular keeps pointing out how much our culture is shaped by Christians and Jews and that Islam does not belong to #Germany? The excesses at the'Hotspot' Cottbus have taken on a new dimension with the attacks on AfD and the Jewish life of the Lausitz metropolis Cottbus."
https://www.blaue-landespost.de/index.php/2018/07/17/afd-buero-und-synagoge-in-cottbus-beschmiert-aber-medien-schweigen/